TOY BEARS - Stuffed, Plush and Teddy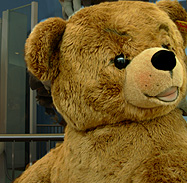 Toy Bears are usually soft huggable "Plush" bears stuffed with cotton with natural mohair fur or more commonly artifical fur of varying material and, often called "Teddy Bears" which refers more to a particular kind of bear (see Teddy's Bear). The stuffed bear has been one of the most popular kind of stuffed animal, made perhaps made most famous by A.A. Milne's "Winnie The Poo", the story of an English boy, Christopher Robin and his "Poo Bear". The form of the toy bear has changed and morphed over time, coming in all shapes and sizes, now including plastic sci-fi bears from Japan. Toy stuffed bears can come soft and floppy, with articulated arms and legs like the Steiff Bear, and now more natural shapes on all fours and rampant. Antique bears have become sought after collector items.

Toy bears now often come as marketing tools and represent characters from children's books, movies and television shows. Now, teddy bears come in various styles and people can dress them up in many different styles and articles of clothing. Teddy bears are also among the most popular gifts for children and significant others on Valentine's Day, birthdays, Christmas and other holidays. Some of the better known bear characters include: Winnie the Poo, Teddy Ruxpin, Care Bears, Steiff Bears, Paddington Bear & Hamleys Bear. Smokey the Bear is a well known bear character but has rarely been made into a toy.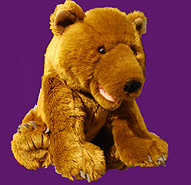 Commercially manufactured stuffed bears are predominantly made as toys for children, though some are for more adult appreciation. These bears have safety joints for attaching arms, legs, and heads. They must have securely fastened eyes that do not pose a choking hazard for small children. Though, if around long enough some might have to have their eyes sewn back on. To be marketed to children in the United States and in the European Union, these toy "plush" animals have to meet strict standards. Most toy bears are made in low wage countries like China and Indonesia. Several companies in the United States and Europe make specialized bears and in recent years internet order and make-your-bear to order companies have become very popular.

Here are some better known Toy Bears
Teddy Bear
Build-A-Bear Workshop
Steiff Plush
Dakin Plush
Hamley's
Gund
FAO Schwarz
Toys-R-Us
Ty
Aurora
Vermont Teddy Bear
And Specialized Bears
Paddington Bear
Queen Mary Teddy Bears
Titanic Unsinkable Bear
Sherlock Holmes Bear
Frankenstein Bear
Audi Racing Bear