PADDINGTON BEAR
London Adventuring Bear from Peru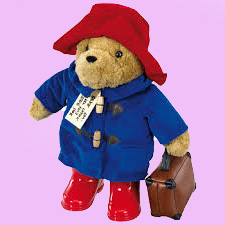 A new movie about the famous Paddington Bear will tell the story to a whole new generation in 2014. London author Michael Bond got the idea for Paddington Bear when he spotted a lone teddy bear on the shelf of a store near London's Paddington Station on Christmas Eve in 1956. He thought the bear looked lonely and bought it for his wife. Then, he got inspired to write a story. It only took ten days and he gave it to his agent. The first book was called "A Bear Called Paddington" and was published on October 13, 1958.
In the first story, Paddington Bear is found at the railway station by the Brown family, sitting on his suitcase with the label "Wanted on Voyage" and a note attached to his coat which read "Please look after this bear. Thank you." He got the idea from pictures of evacuee children leaving London on trains during the Blitz with labels around their necks and everything they owned in suitcases. Paddington was sent from Darkest Peru by his Aunt Lucy. He got his red hat from his Uncle Pastruzo who went to a retirement home in Lima. Taken into their home by the Browns, Paddington Bear goes about a series of adventures which usually are inspired from his misunderstanding something and trying to right what he thinks is unfair or unjust, usually ending up with everyone having a laugh. Padding Bear is always very polite, very accident prone, and loves marmalade. The classic tales of the beloved bear have sold more than 35 million copies worldwide, translated into over 40 languages and have captured the imagination of children and adults around the globe.
The first stuffed toy version of Paddington Bear was created in 1972 by Gabrielle Designs, a small home business run by Shirley and Eddie Clarkson, with the prototype made as a Christmas present for their children. Shirley Clarkson's design dressed Paddington in his signature Wellington Boots, which he first got in the 1964 Christmas story "Paddington Marches On". The first bears wore small children's boots manufactured by the Dunlop company until the bear got so popular, production couldn't keep up. Gabrielle Designs then made their own boot with paw prints on the bottoms.
Best Bear Books at Amazon