STEIFF - BEARS AND PLUSH TOYS
Famous Premium Brand of Collectable Toy Bears



Steiff is the world's oldest continuously operating plush animal toy manufacturer, founded in 1880 by Margarete Steiff in Giengen An Der Brenz, Germany. Margarete Steiff was a seemstress, bound to a wheelchair and limited to sewing with one hand due to childhood polio. She began by sewing stuffed toys for children with the idea of a toy created with the utmost personal care and quality.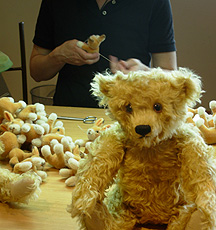 After making plush animals for nearly 20 years in Germany and Europe, with her work the favorite of European households from the common to royalty, her favorite nephew, Richard Steiff, an engineer and inventor working in his aunt's company came up with the design for a bear with articulated arms and legs to present in America, where President Theadore Roosevelt had been in a series of cartoons with a bear (see Teddy's Bear). The Steiff design came to be known as the Teddy Bear and the Steiff brand known worldwide. The famous "Button in Ear" trademark tag, was introduced by another of Margarete's nephews, Franz Steiff, in 1904, distinguishing every Steiff Teddy bear or animal, standing for superior quality, richness of ideas.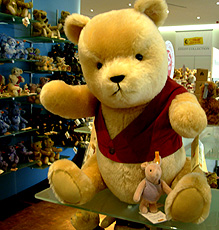 Older heritage Steiff bears are now some of the most collectible of stuffed plush animals for collectors, but Steiff continues to make a broad range of stuffed plush animals, including bears. Steiff makes familiar licenced characters like Winnie-The-Poo and Piglet as well as a German bear character more known at home in Europe - Knopf. Steif also makes some unfamiliar animals like Hedgehogs.Steiff uses a woven plush fur which can cost 12 times as much as the plush fur used by most manufacturers.
The Steiff product line is divided into two segments – for Child or Baby and the Collectible. Steiff animals tend to be pricey, some costing new as much as $100 to $250, but some moderately priced animals can be found. Steiff bears are sold in more specialty type stores. Hamley's in London has a special arrangment with exclusive designed Steiff products.
Steiff makes animals from small pocket size to live size and larger plush jungle animals, dog, lions and tigers, or floor-to-ceiling giraffs. All Steiff products are hand made and the Steiff Factory in northern Bavaria can be visited see (Steiff Factory Tour) with an entertaining look into the world of Steiff and a massive showroom of fuzzy, furry creatures for sale.