SHERLOCK HOLMES BEAR
221b Baker Street Museum in London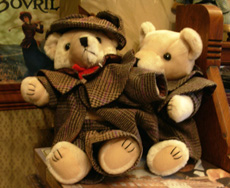 This is our friend Sherlock Holmes Bear. He lives at 221b Baker Street in London, the world's most famous address, depending on whomb you ask. That's the address where the Wolld's First Consulting Detective Sherlock Holmes live according to the stories written by Sir Arthur Conan Doyle. Sherlock Holmes Bear is real and you can visit him at 221b and even take him home, whether Sherlock Holmes the detective was real…well, he is to some people. And he won an Emmy award for his TV show, so he must be. Beginning with "A Study in Scarlet" first published in a magazine, Breton's Christmas Annual, then in serialized form in The Strand magazine in 1887, Sherlock Holmes and his friend Dr. Watson solved mystery cases all the way until 1927. Much of that time they lived together at 221b Baker Street, except for some years when Dr. Watson was married. Conan Doyle got tired of writing Holmes stories and tried to kill him off once, whih he and his enemy Professor James Moriarty falling over a waterfall in Switzerland where Conan Doyle once took a holiday. But people so badly wanted to read more stories, Doyle had to bring him back again, with a spinning shadow on the window curtain of 221b.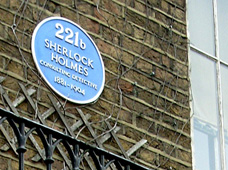 Now, there is a museum at the address in the north section London near the famous Madame Tussaud's Wax Museum. The Sherlock Holmes Museum London, or at least an exhibit shows the rooms that Holmes and Watson would have lived in, recreated with furniture and decorations described in the books. There are other rooms around also imagined from the books, one is upstairs in the Sherlock Holmes Pub in London near the Old Scotland Yard. and one is in Switzerland, the near the Reichenbach Falls and the hotel Conan Doyle stayed in Meiringen. In the 221b address there is a study with Holmes' famous deerstalker cap, magnifying glass, Calabash pipe, of course the Persian slipper with tobacco stuffed in the toe, chemistry equipment and disguises. Up above on the 2nd floor is Dr. Watson's bedroom (he was much neater than Holmes) and on the third floor there are other exhibits and wax figures of the characters, including Sherlock Holmes and Professor Moriarty, so you don't have to pay to see the ones in Mrs. Tussaud's. At the front is even a room for Mrs. Hudson. Downstairs next door is the shop where you can buy stuff, like our friend, Sherlock Holmes Bear and his friend Dr Watson Bear. Maybe he might solve a mystery for you.
Best Bear Books at Amazon