AUDI RACING BEAR
Spotted at the Nurburgring Race Track in Germany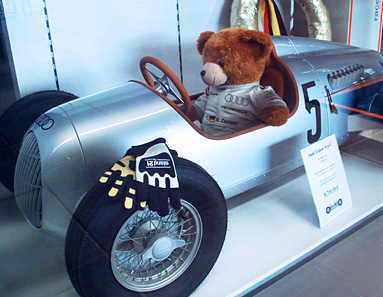 Audi likes fast cars. You see Audi cars all over TV and movies, with spies driving vary fast through streets of Europe and everywhere else, often while bad guys cars chasing them crash their ccars. The bad guys usually aren't driving the Audis. That's because Audi likes to have their cars seen with movie stars driving them. Audi also has racing car teams. You can tell it's Audi because of the four silver rings on the front. The rings symbol comes from when the car company was called Auto Union, when four different car companies in Germany joined together to become one car company, but they didm't use the Audi name until the 1960's. Them seems like it might come from Auto Union, but it's really based on a Latin word for hearing sound, like the roar of the engine of a race car.
The most famous classic racing car of Auto Union was the Type C Grand Prix race car which raced from 1933 to 1939 in different models, but very distinctive for its silver color and the front nose being shorter than the back. The first Auto Union Grand Prix cars had 16 cylynder engines, then were replaced by V12 motors than had almost 550 horsepower. The cars had winning years between 1935 and 1937 with drivers including Tazio Nuvolari, Hans Stuck, Bernd Resemeyer and Ernst von Delius, beating their main competition at Mercedes Benz, until WWII put an end to Grand Priz racing for a while.
Pictured here, Audi Racing Bear is behind the wheel of a smaller sized version of the Auto Union Type C racing car, wearing his Audi Racing Jacket. This picture was taken at the Nurburgring race track in Germany, one of the most famous and challenging of the Grand Prix tracks, which had so many turns they couldn't be memorized like other tracks. The current Formula One cars don't drive on the old track anymore, but on the fast new modern part of the race way. You can't buy Audi Racing Bear but you buy a racing jacket with the ring logo and dress up your own bear. Getting a vintage racing car for him to drive might be a little more pricy, and then there are all those driving lessons.
The Audi headquarters is in Ingolstadt, in Bavaria Germany, north of Munich, where you can go an see cars being made and take a tour. That's also the same city where Victor Frankenstein went to school at Ingolstadt University and built his monster from dead bodies, but that's another story.
Best Bear Books at Amazon