QUEEN MARY TEDDY BEARS
The Captain and At Your Service Theodore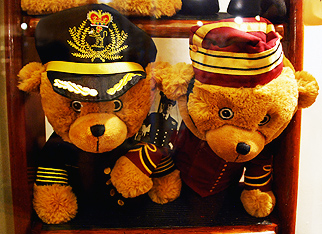 The RMS Queen Mary is one of the great luxury ocean liners which used to carry passengers across the Atlantic Ocean before airplanes starting making the trip much faster. Most ocean liners today are floating hotels that go around in circles. But in the days of Trans-Atlantic ocean crossing by travelers going between America and Europe the Queen Mary was one of the great vessels. The world's biggest passenger ship since the Titanic (see Titanic Bear Belfast) when she was launched by the Cunard Line in 1936, the Queen Mary was the premier liner for crossing the Atlantic, carrying royalty like the Duke and Duchess of Windsor (yes, the one who gave up being king to marry an American) and movie stars like Clark Gable, Fred Astair, and Elizabeth Taylor. But it was only three years until the World War II started and the Queen Mary was turned from a luxury passenger ship into a trip carrier, taking soldiers across the ocean to war. She now gets used in a lot of movies of people in olden days on ocean voyages. There is now a Queen Mary 2 carrying on the tradition..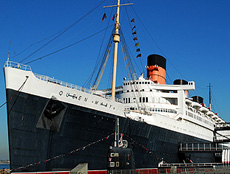 When the Queen Mary sailed stuffed Teddy Bears were very popular. (Whatever happened to that?!) Children on the ship used to get teddy bears to keep them happy. There are lots of stories about the Queen Mary being haunted by ghosts and and one of them is of people seeing the spirit of a young girl dressed in clothes from the 1930s carrying her Teddy Bear.
Today on the ship, they have stuffed bear for kids to commemorate the bear history. The Queen Mary bears come dressed in uniforms, like the captain of the ship and the Theodoreyou're your Service" Teddy Bear dressed in an authentic replica of a bellboy uniform from 1936. The Queen mary Bears can be purchased in the Stack shop in the ship. There are some other stuffed bears online called a Queen Mary Teddy Bear but they are not the same.
Best Bear Books at Amazon