WINNIE-THE-POOH AND CHRISTOPHER ROBIN
Inspired by a Real Life Bear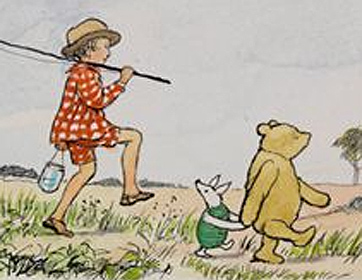 Winnie-the-Pooh, also more simply Pooh Bear, is a fictional toy bear who appeared in a series of stories by English Author A. A. Milne (Alan Alexander). The character of Pooh was based on the teddy bear of his young son Christopher Robin Milne. The name of Christopher's bear came from a real live black bear from Canada named Winnie that was saved from the wild by a Canadian Lieutenant Harry Colebourn while on his way to England to serve in World War One.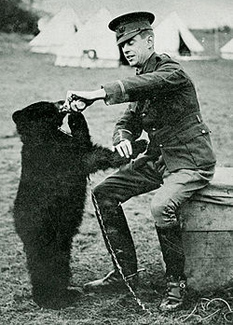 Lt. Colebourn, in the Royal Canadian Veteranarian Corps trained in Salisbury where Winnie was the mascot for the Fort Garry Horse cavalry unit and then placed Winnie with the London Zoo while he and his unit went to France. The bear became and very much beloved attraction at the zoo and after the war after the war was officially donated to the zoo, where she lived until she died in 1934. "Winnie" was short for the city of Winnepeg in Canada. The Pooh part came from a swan Christopher had seen on a holiday trip. Pooh was joined in the stories by a collection of other toys in Christopher's toy box, Piglet, Tigger, Eyeore, Kanga and Roo.
Pooh first appeared in a poem in the children's book of verse When We Were Very Young in 1924, then in a first book collection of original stories, Winnie-the-Pooh in 1926. More stories of the tremendously popular characters followed in The House at Pooh Corner in 1928 and also an appeared in more children's poems in Now We Are Sis in 1927. The look of Pooh Bear and all his friends come from the illustrations of E. H. Shepard who did the drawings for all the books. Pooh later appeared in Walt Disney movies. The Disney artists added some other characters and a lot of Pooh images are now from the Disney company. Christopher Robin's original toy bear is on display at the New York Public Library.